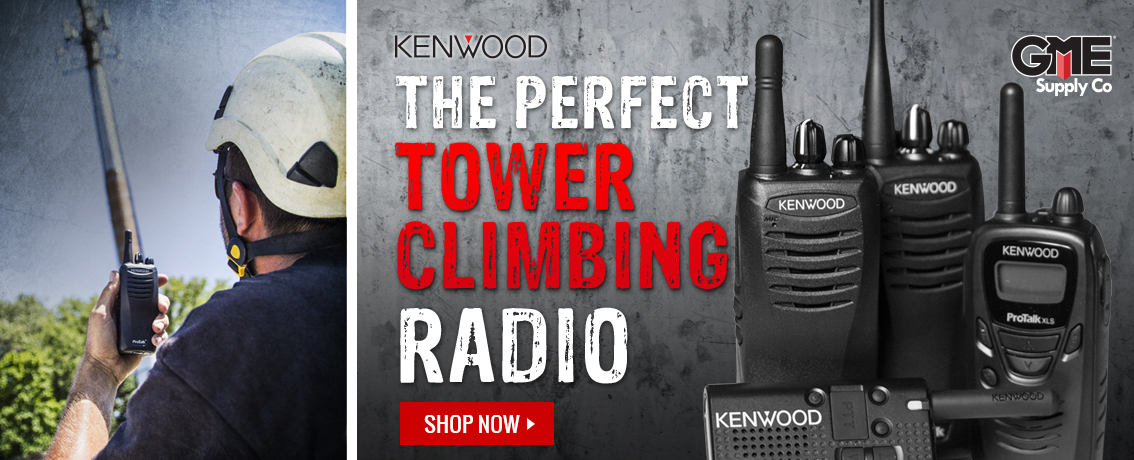 Communication on any job site is key. That's where radios come in. They are compact and make communicating over large distances (especially when you're up 150 feet on a tower) much easier and more efficient. But not all radios are created equal. This week our Gear Experts® are going to break down the perfect tower climbing radio.
TK-3400U16PS
---
The Kenwood TK-3400U16PS is the perfect tower climbing radio. The reason is actually pretty simple – the shorter antenna. Our Gear Experts® teamed up with the folks at Kenwood to custom design this radio specifically for the telecom market, although it's perfect for any at-height work.
*The TK-3400U16PS is the 16-channel upgraded version of the TK-3400U4P.
Making Life At-Height Easier
---
We found that the longer the antenna was on the radio the more likely it was to get in your way while you were climbing up and down the tower or working at height. Because of that, we decided to make a radio that had a much shorter antenna.
Don't worry! Just because the antenna is smaller doesn't mean you will lose any reception. This antenna works just as well as any of the radios in Kenwood's lineup.
Completing Your Setup
---
So, now you've got the perfect radio – but we've got a few more tips to make it the perfect setup. We recommend having a holster like the T-Reign ProHolster Retractable Harness Holster or the Kenwood KLH-187 Nylon Carrying Case. A holster will allow you to clip your radio to your harness so you don't have to try and dig it out of your bolt bag in order to use it. The last piece of equipment we recommend is the Kenwood KMC-21 Speaker Mic. The speaker mic allows you to communicate with just one hand and not have to worry about taking your radio out of the holster or removing the holster from your harness.
To find out more about some of our favorite two way radio accessories check out this blog post.
Rebates!
---
Kenwood frequently runs rebates. Be sure to check our Kenwood page for a full selection of Kenwood radios and any current promotions going on.
Have more questions about our radio selection? Click here to talk to one of our Gear Experts®.
→ Click here to see our full selection of Kenwood radios and accessories
Kenwood: The Videos
---
Over the years we have done quite a few Kenwood videos covering everything from accessories and comparisons to how to lock your radio.
Get Social
---
Be sure to follow us on social media to keep up with everything GME Supply has going on!
Facebook | Instagram | YouTube | Twitter | LinkedIn

We're Also on Snapchat
---
Simply snap or screenshot this image ↓ to follow GME Supply!