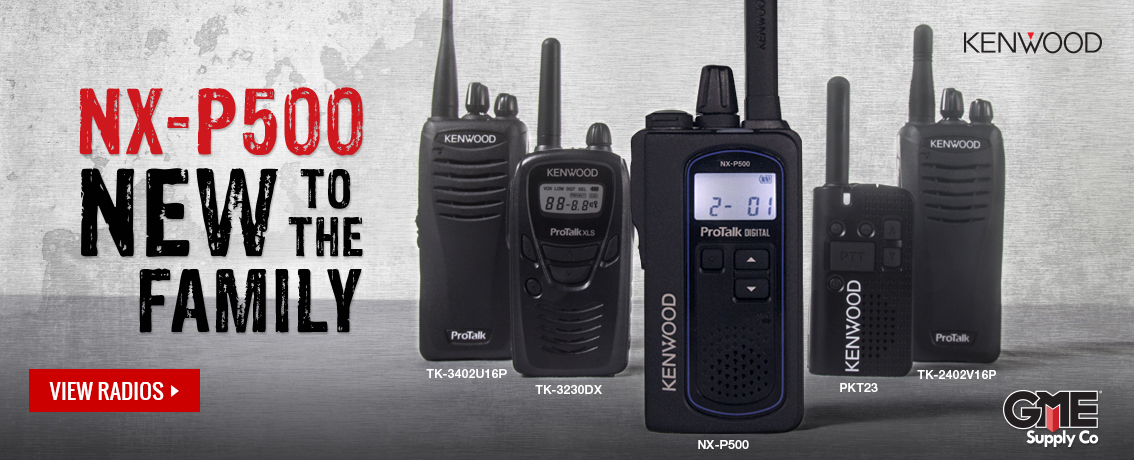 With the range of hazards that go hand-in-hand with at-height work, communication is an important part of any job. Having the ability to easily and effectively communicate with your crew helps promote safety and reduce accidents. This week our Gear Experts® are proud to announce a brand new dual band radio from Kenwood.
The Kenwood NX-P500
---
Kenwood is known for making durable, long-lasting, reliable radios and the NX-P500 doesn't disappoint. This latest addition to the ProTalk series boasts a wide range of new features that make it one of Kenwood's most powerful, compact radios yet. Don't let the small, compact design, fool you, though. This radio packs some punch and is ideal for office settings, job sites, and even up on a tower.
Features
---
Let's get down to the nitty-gritty and talk about what this radio can really do. It features dual mode NXDN Digital and FM Analog compatibility which means that no matter what radios your crew are running, this one will work with it. It is a powerful radio with 2-Watt UHF output power making it just as powerful as our popular Kenwood 3400U16P only much smaller in size. The output power settings on this radio make it particularly good for inside environments because it is capable of transmitting through up to 20 stories.
The NX-P500 also features an IP54, 55, & 67 rated housing which means it is sealed for waterproofing. That means it can be submerged down to 1 meter for up to 30 minutes, so you don't need to worry about it when your working in the elements.
Even More Features
---
We weren't joking when we said this two-way radio was jam packed with cool stuff. It features hands free VOX (voice-operated-exchange) Operation with a 750-mW speaker output which provides loud and clear signal reception. And, the Lithium-ion battery provides over 15 hours of continuous usage. With all this awesome and powerful tech, the radio still only weighs a mere 5.6 ounces.
Accessories
---
Kenwood two-way radios have always had an added advantage apart from their quality. That advantage is the wide line of accessories. Out-of-the box this radio comes with a single unit charger but, it can use the Kenwood KSC-506K 6 unit charger. It is also compatible with a wide variety of Kenwood headsets, earphones, and microphones. Not to mention that with the help of the included belt clip holster, this radio can easily be attached to a toolbelt or job uniform.
Got questions about the newest radio from Kenwood? Click here to contact one of our Gear Experts®.
→ Click here to see the Kenwood NX-P500 2-Watt Dual Mode Two-Way Radio
→ Click here to see our full selection of Kenwood products
→ Click here to see our full selection of two-way radios
Kenwood NX-P500 The Video:
---
Get Social
---
Be sure to follow us on social media to keep up with everything GME Supply has going on.
Facebook | Instagram | YouTube | Twitter | LinkedIn

We're Also on Snapchat
---
Simply snap or screenshot this image ↓ to follow GME Supply!