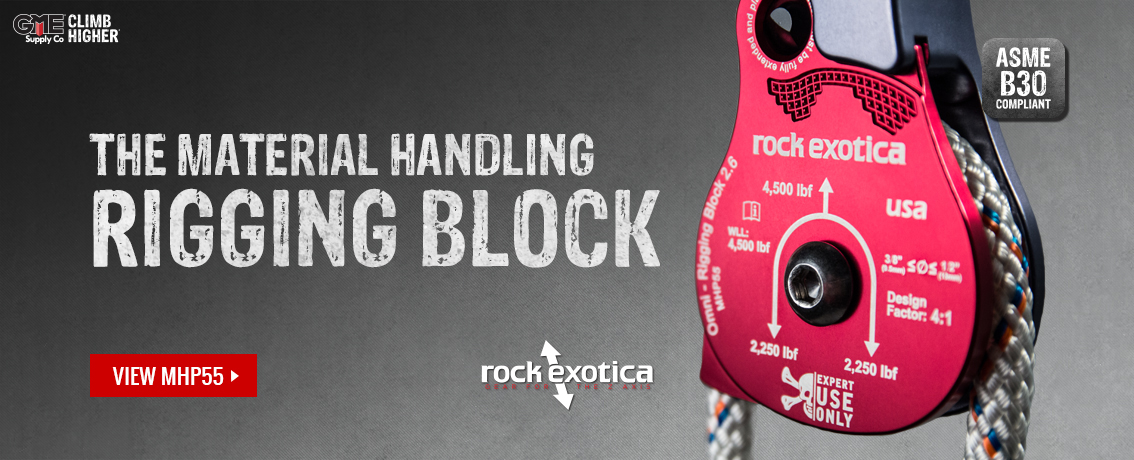 The MHP55 from Rock Exotica has changed the game when it comes to lifting and rigging. This super-efficient, light, and versatile block is a must have for many rigging plans. This week our Gear Experts® are going to discuss why this block is such a great piece of equipment.
ASME B30 Standard
---
The Rock Exotica MHP55 meets the critical ASME B30 Standard for lifting and rigging. More specifically, Chapter 26-5 which covers rigging blocks, like those you would use with a capstan hoist on a tower. We covered the ASME B30 standard in a previous blog post. Click here to check out that blog post.
Features
---
This material handling 2.6 inch block features a red side plate to help differentiate it from other Omni-Block pulleys. The working load limit (WLL) is also a stout 4,500 pounds making it one of the strongest blocks in this category, even when compared to other steel blocks. A major advantage of this block is its ease of use. The side plates swing open, so you can install the rope while not detaching it from the system. Then, it locks back into place with a two-stage double-catch safety mechanism. The extremely efficient ball-bearing sheave reduces friction while lifting and rigging. It also has a swivel at the top to help the block align with the system. Last, but certainly not least, is rope compatibility. This block accepts ropes between 3/8 and ½ inch.
**The content of this blog is not intended to replace proper, in-depth training. Manufacturer's instructions must also be followed and reviewed before any equipment is used.
→Click here to see the Rock Exotica MHP55 Omni-Block
→Click here to see our full selection of Rock Exotica Items
→Click here to see our full selection of Blocks
→Click here to see our ASME B30 Standard Guide
The Ultimate Rigging Block
---
Get Social
---
Be sure to follow us on social media to keep up with everything GME Supply has coming up in 2018. It will be exciting – we promise!
Facebook | Instagram | YouTube | Twitter | LinkedIn

We're Also on Snapchat
---
Simply snap or screenshot this image ↓ to follow GME Supply!