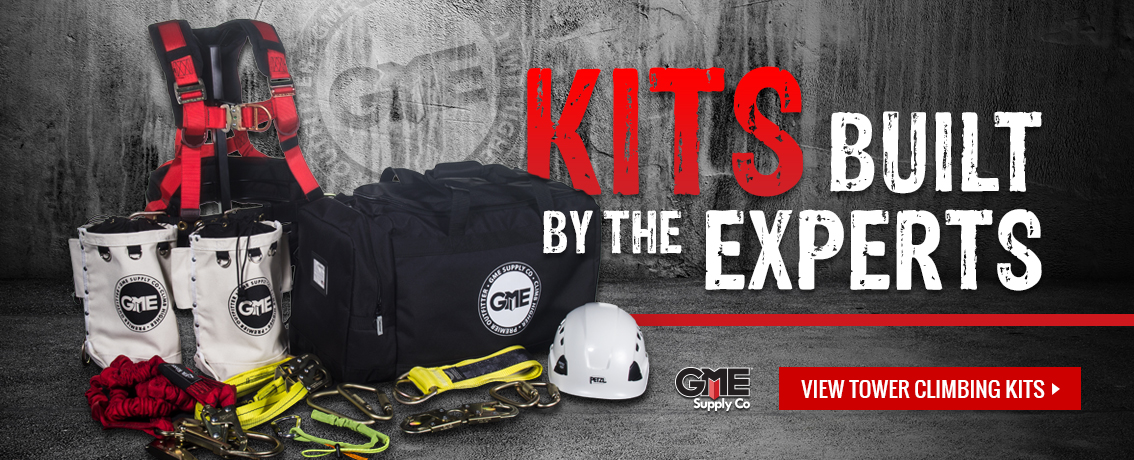 One of the worst things about shopping for your crew or the new person that is starting next week is having to flip through the pages of a catalog or thousands of web pages to find the gear they need to get the job done. Our Gear Experts® have created tower climbing kits that save you cash and make your job of buying a range of equipment faster and easier. Apart from saving you cash and time, these kits have a lot more to offer.
What's the benefit?
---
Kits allow your gear to be consistent from climber to climber and crew to crew. If all the tower crews in your company are using the same gear it makes working easier. There is no confusion about how one piece of gear may differ from another. For example, if all your rescue kits were the same from one crew to the next, it would completely reduce the risk of someone getting confused during high-stress events, like a rescue.
What kind of kits are available?
---
We have a wide range of tower climbing kits that include everything needed for a climber to work safely. The actual components of the kits vary depending on each kit and your preferences.
We also have a range of other kits available. We offer rescue kits, wind energy kits, solar industry kits, PPE kits, tool kits, and even lifting & rigging kits.
What do tower climbing kits come with?
---
What the kits include depends on the kit you choose and if you want add-on or upgrade items. However, the tower climbing kits all come with the standard equipment needed for a climber to work safely. Our kits all include a harness, a lanyard, and carabiners. Many of our kits also come with bolt bags, gloves, spreader bars, safety glasses, helmets, and cable safety sleeves.
What if I need a custom kit?
---
If our available kits don't meet your needs don't worry, they are fully customizable. Simply contact one of our Gear Experts® and we can help you build exactly what you need. Our state of the art account management system allows us to create custom kits, built specifically to suit your needs. The benefit of this type of system is that next time you call in; you have the same pricing and the same products every time. You don't have to go through countless emails and talk to 5 different people to make sure that you are getting the exact same kit you got last time because we do that for you.
Have more questions about kits, or need to customize the perfect kit for your team? Click here to contact one of our Gear Experts®.
→Click here to see our selection of tower climbing kits
→Click here to see our full selection of kits
Custom Tower Climbing Kits
---
Get Social
---
Be sure to follow us on social media to keep up with everything GME Supply has coming up in 2018. It will be exciting – we promise!
Facebook | Instagram | YouTube | Twitter | LinkedIn

We're Also on Snapchat
---
Simply snap or screenshot this image ↓ to follow GME Supply!