Recall is a word you never want to hear about in the fall protection industry. The gear you use literally holds your life in the balance and as gear experts the safety of all of our customers has always been a priority. On October 9, 2017 we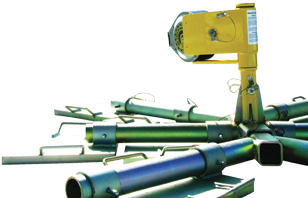 received word that the Guardian Fall Protection Angel Anchor (part # 00260) had been issued a Stop Use and Replace Notice. We immediately jumped into gear and marked the item as "out of stock" on our website and moved forward with alerting our customers.
What caused the recall?
The Angel Anchor was recalled because it may have been unsafe of certain substrate (surface) materials, and was labeled with an incorrect maximum worker weight capacity.
Identifying a recalled product
The quickest and easiest way to identify if your Angel Anchor is part of the recall is purchase date. If you purchased the anchor prior to October 9, 2017 then you need to contact Guardian to initiate your recall. However, there is another way to verify if you are part of the recall. The labeling on the recalled anchor will have a capacity range of 130-310 lbs.
I'm part of the recall… what do I do?
If you have an Angel Anchor that needs to be replaced here are the steps to take to begin the process.
1) Attempt to locate information that might be requested by Guardian's Customer Service Department:
-Purchase Order #
-Product Serial #
-Date of Purchase
-Distributor
-Any other information you have that can assist in the identification of the specific product.
** If you need help finding your purchase order # or date of purchase and you purchased the Anchor from GME supply please contact us and we can help.
2) Contact Guardian's Customer Service Department at CS@guardianfall.com or 1-800-466-6385
Guardian's Customer Service will work to coordinate the shipment of replacement product and can assist you with any other questions (at no cost to you).
What should I know about the replacement?
Guardian has done a rolling replacement – which means that the model number (00260) will be the same on the replacement as the original. The replacement Angel Anchors are manufactured with rubber friction padding to allow for use on a wide variety of substrates, and are properly labeled with a 220 lb. maximum worker weight capacity. The labels have also been updated to reflect compliance with all EN 795-2012 regulations. Additionally, the list of suitable substrates has been updated as follows:
-EPDM membrane
-Torch Down (Smooth)
-Torch Down (Granulated)
-Cement
-Wood
-TPO
-Vinyl
-PVC

Is the product safe to purchase now?
Yes.
Guardian has officially moved forward with producing the replacement model and it is safe to purchase and use.
Download the Stop Use & Replace notice below: