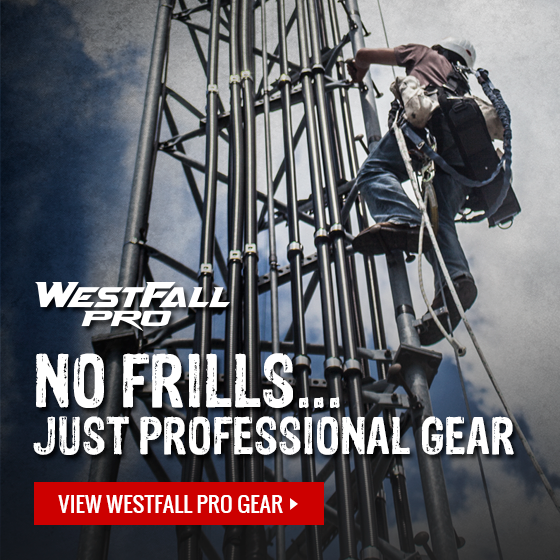 No frills… just professional gear.
WestFall Pro builds its products to meet and exceed the most stringent of industry standards. And the gear is designed by the people that use it, so it's not over engineered or needlessly complicated.
Take the Ascend Tower Harness for instance. You can get it in either Steel or Aluminum hardware, both are great. Obviously the aluminum will save some weight with the lighter hardware. The harness is basically designed around the seat. They use a wide, comfortable aluminum seat with plenty of padding for working all day in suspension. Plus, they threw on extra utility attachment loops on the seat, and around the belt to hold your tools while you're not using them.
Next, the Weld-Lok reinforced capstan hoist truck mount. It's designed to be used with the 1,000 pound capstan hoist. Unlike others on the market, it uses Weld-Lok technology to make it extra sturdy. The individual pieces actually are interlocked to keep things strong. Plus, it's engineered and manufactured in the U.S. Can you say quality?
New from WestFall Pro is their Load Rated carabiner. This thing is one of the strongest on the market. It's rated to 2000 pounds for lifting and rigging. The WLL is stamped right on the carabiner. Plus, you can easily differentiate it from your fall protection hardware because the gate is painted bright yellow.
Finally, their load rope. This pairs great with the load rated carabiner. The WestFall double braid load rope has a tighter braid than others on the market. This provides better abrasion resistance and prevents snags when running through blocks, on the capstan, or against a tower. There's also a high contrast tracer throughout the rope, which helps show how fast, and in what direction your rope is moving.
Checkout the playlist featuring many of the WestFall Pro products above. Head over to the manufacturer page to see them all.