What happens when an unstoppable force meets and immovable object? That depends on if you brought the Wilton B.A.S.H.
The B.A.S.H. might be the last sledge you'll ever need. They come in a variety of weights and sizes so there's one available for your needs. And they're all ridiculously tough. Wilton might have heard the phrase, "No need to reinvent the wheel" but they scoffed at it, then went and made a better wheel. A wheel shaped like a hammer that will crush basically anything.
Their hammer has a steel core for durability. It is essentially unbreakable. They put 6 steel rods from the top of the head all the way through the handle. At the top, they've attached to a safety plate, so you don't have to worry about the head coming off and flying through a windshield. It's locked firmly to the handle.
So you can smash away all day, the handle is made of molded, vulcanized plastic. Its textured design makes sure that you have a secure grip when striking. No need to look like a scrub with athletic tape wrapped around your sledge. Plus the anti-vibe neck reduces any type of vibration fatigue. And at the end, there's a lanyard hole so you can secure it on your wrist, or to your harness while climbing.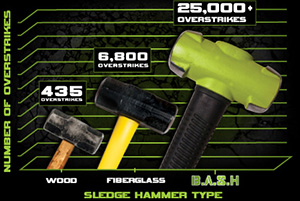 Generally, handles on sledges break on mishits. Trying to hit a cinderblock and missing entirely so the strike is just below the head, on the handle. Not a problem when the B.A.S.H... Wilton tested their hammer vs wood and fiberglass and the results were impressive. Wilton's are rated to 25,000 overstrikes. You can miss 25,000 times before it is even close to breaking. Pretty remarkable.
Try breaking the hammer. We dare you. And Wilton does too. If you break their hammer within two years of purchase, they'll send you a check for $1,000. Go ahead. Give it a shot.