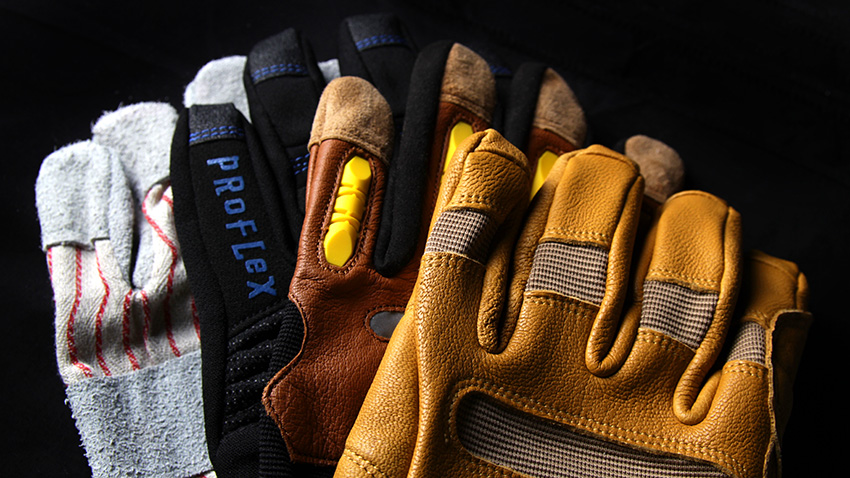 You know… an inch thick steel glove would be great at protecting your hands from cuts, abrasions, chemicals, and fire. Unfortunately, you wouldn't be too productive and your arms would probably get tired pretty quickly. That's a heavy glove.
Good hand protection keeps your hands safe while providing mobility, dexterity, and comfort. Obviously that steel glove provides exactly zero of those things. You'll have to find something else. Lucky for you, there are a bunch of different types of gloves, and each has its own place and use. The main reason people wear gloves on the job is to protect against cuts, abrasions, and punctures. Without hand protection, injuries can get expensive.
Gloves are tested in a number of ways and given cut ratings. Both ANSI and the European Union have criteria to rate gloves. The EU, the "EN388" symbol, which is stamped on many gloves, is a very easy way to see how the glove stacks up in regards to abrasion, cut, tear and puncture. It's got a shield with 4 numbers underneath. Those numbers rate each category from 1-4, except cut which is rated 1-5. Remember the acronym ACTP, or ACT Professionally, to recall what each number stands for.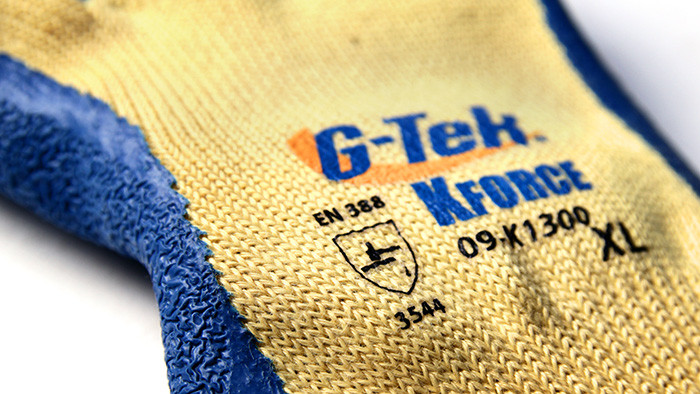 Leather gloves are the old reliable of work gloves and for good reason. For a very long time, leather was a great material to protect against cuts. But if you think about it, all leather is, is just another layer of skin. It protects to an extent but isn't perfect. Thicker leather gloves do provide a bit more protection, but they can also be dangerous since you'll probably lose dexterity.
Luckily there are composite fibers that provide excellent cut resistance and produce thin, effective hand protection. Fibers like Kevlar, Dyneema, and Spectra are excellent things to look for in hand protection.  Head over to our glove section and see our wide selection of hand protection. We've got anything from economy gloves up to high-end super awesome pairs that you might not even want to get dirty. They're that great.
And remember, there's not one glove that will be perfect for every situation. You'll have to determine what is going to work for your specific application. That's where we come in. Give us a call or chat us online and we can find the perfect pair so you can Climb Higher ­– without abrasion. (Or cuts, tears or punctures.)